Tips: 1-day and same-day handling
Attract more buyers with your 5-star service
The number of buyers making purchases online is rising and so are their expectations for shipping, handling, and delivery time. And these buyers want to know their items ship promptly. It's a big reason why sellers who offer quick handling continue to win new sales. And, when you offer 1-day or same-day handling—and tracking data shows your shipment arrives within four business days—you'll earn an automatic 5-star rating for ship time.
1-day and same-day handling at-a-glance
1-day or same-day handling gives you until the end of the next business day to ship
Handling time starts when buyer payment clears
Weekends and holidays don't count
You can set your handling time and order cut-off times for each listing
Same-day handling and cut-off times
To attract more buyers and stay competitive, many online merchants now offer same-day handling ("Orders received by 2:00 PM are shipped the same day."). If you're able to offer same-business-day handling, let buyers know about your outstanding service by specifying same-day handling and your order cut-off time so they know when to expect their items.
It's easy to add same-day handling and order cut-off times to your listings
Select same-day from the handling time options when you list, for items that can be packaged and shipped the same day you receive the order. Add it to all your listings at once, or when you relist or revise, using the bulk edit and relist tool.
Specify an exact order cut-off time for your items in the shipping preferences section of My eBay. Buyers can clearly see your order cut-off time, which will be used along with your handling time and shipping service information to provide more accurate—and competitive—delivery estimates. If you don't specify a cut-off time, the default cut-off time will be set to 2:00 PM Eastern Time for eBay.ca and 2:00 PM Pacific Time for eBay.com.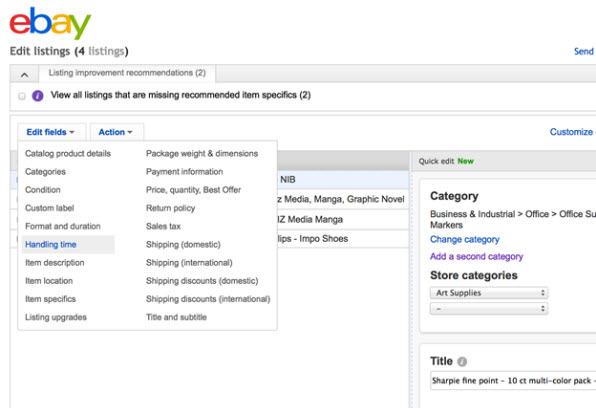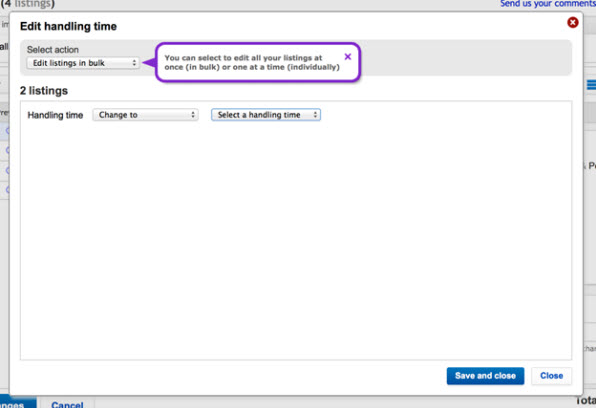 Now you can specify same-day handling in your shipping details as you list.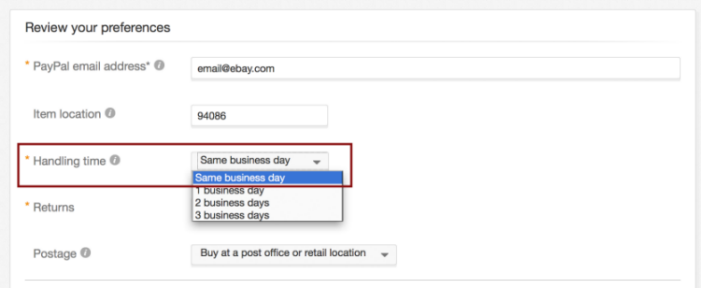 From your Shipping preferences in My eBay, you can specify your order cut-off time for handling.

1-day and same-day handling tips
Be ready: Prepackage

Print your item listing and tape it to the outside of the box to keep track of what's inside. Then, when it sells, just put your invoice inside, tape it up, and add your shipping label. Prepackaging is especially important for fragile items—do your double-boxing ahead of time.

Stock up: Have supplies on hand

Keep a well-stocked supply of shipping boxes, padding, tape, and any other materials you need to get your package on its way. You'll find great prices on packing materials on eBay.

Upload tracking

Do your best to upload tracking within the same business day your buyer pays. This lets your buyer know when to expect the shipment and verifies "item received" (protecting you from a buyer's "item not received" claim), and keeps eBay informed should a problem arise.

Use carrier pickup services

Take advantage of pick-up services so you can spend your time getting shipments ready, not driving back and forth and standing in line.

Know the timetable for one-business day handling

One-business day handling means you have to ship the item before the end of the next business day after the buyer payment clears—holidays and weekends don't count. For example: if your buyer pays on Friday, Saturday or Sunday (before midnight Eastern Standard Time), you have until Monday midnight EST. If Monday is a holiday, you have until Tuesday before midnight EST. Freight transactions are not required to offer a 1-day or shorter handling time to be eligible for the final value fee discount or greatest, on average, advantage in Best Match.

Avoid out-of-stock delays

Out-of-stock items can be costly and cause buyer disappointment, so make sure your listings always reflect inventory on-hand.
Use your Seller Dashboard to monitor your performance.
Buyers want to know. Plus, it protects you.
Find out more
We're here to help you get there
Rewarding great service with more sales.
Additional resources
We're here to help