Enhanced transaction defect report is here
Syncs data daily with your Seller Dashboard
Provides access to defect details
Shows defects removed by eBay
Get to know your enhanced transaction defect report
The new Transaction Defect Report lets you access the information
you need to effectively manage defects. With better insights
into specific transactions, you can quickly take action and work
on areas that may need your attention. Watch Kristi Diemoz,
Senior Manager at eBay, walk you through the improved
Transaction Defect Report.
HERE'S HOW WE'VE IMPROVED YOUR REPORT
| | | |
| --- | --- | --- |
| Functionality | Current report | Enhanced report |
| Lists defects | Yes | Yes |
| Accessible via Seller Dashboard | Yes | Yes |
| Updated daily | No | Yes |
| Filters by program, evaluation period, defect type | No | Yes |
| Includes history of previously downloaded reports | No | Yes |
| Shows removed defects | No | Yes |
| Available to Customer Support | No | Yes |
See what's new in the report
Check out this brief overview of some of the new features and functions you'll find in your Transaction Defect Report.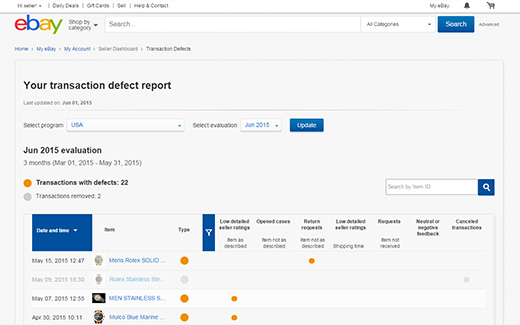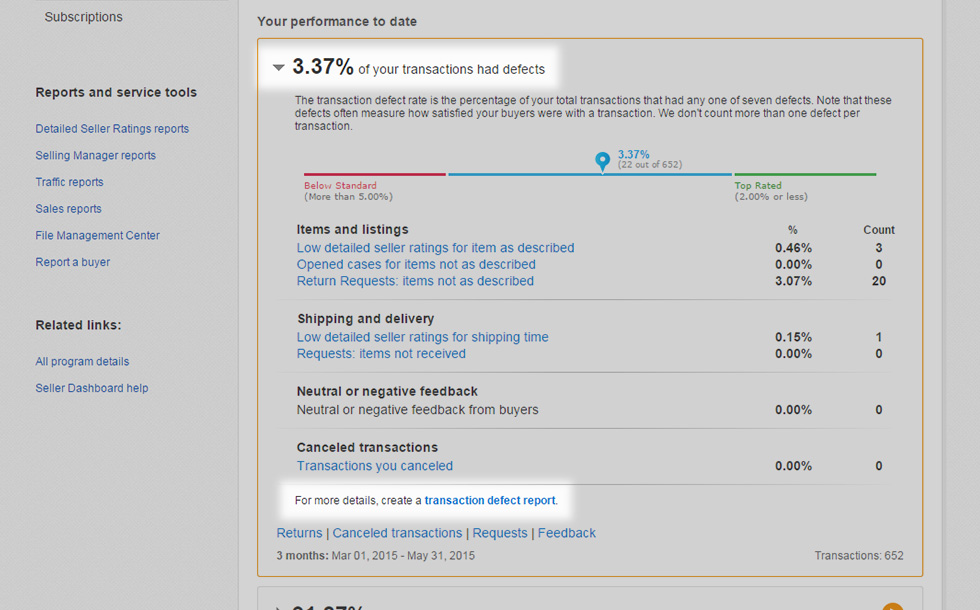 Accessing your new Transaction Defect Report
To view this report, go to your Seller Dashboard and click your transaction defect percentage. Once this information is expanded, click on "transaction defect report".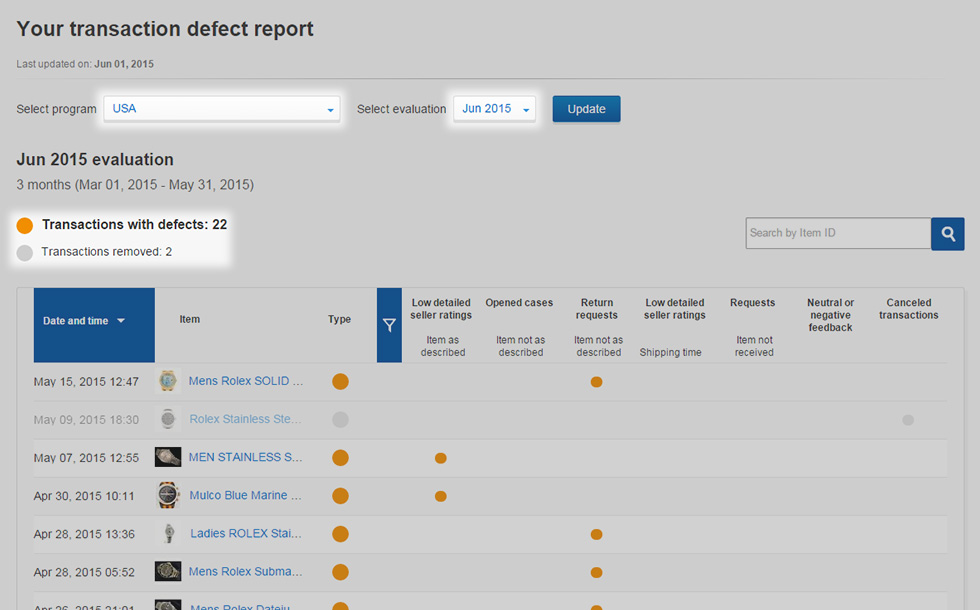 Get more details
On the report page, you can see the regional program, month, and legend.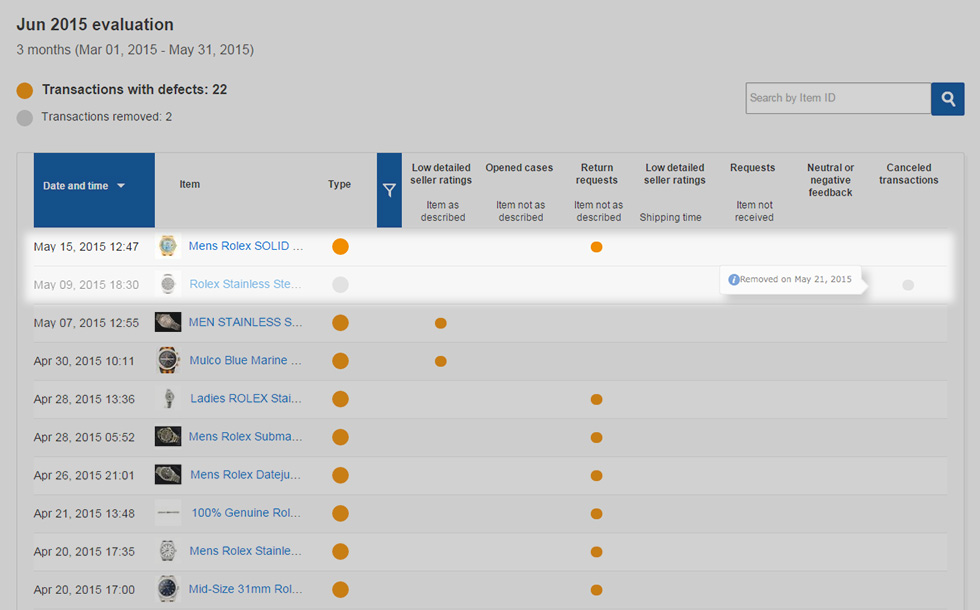 Walking through a report
The Transaction Defect Report page shows a breakdown of your transaction defects, including those defects removed by eBay and detailed information like date, time, item, and defect type.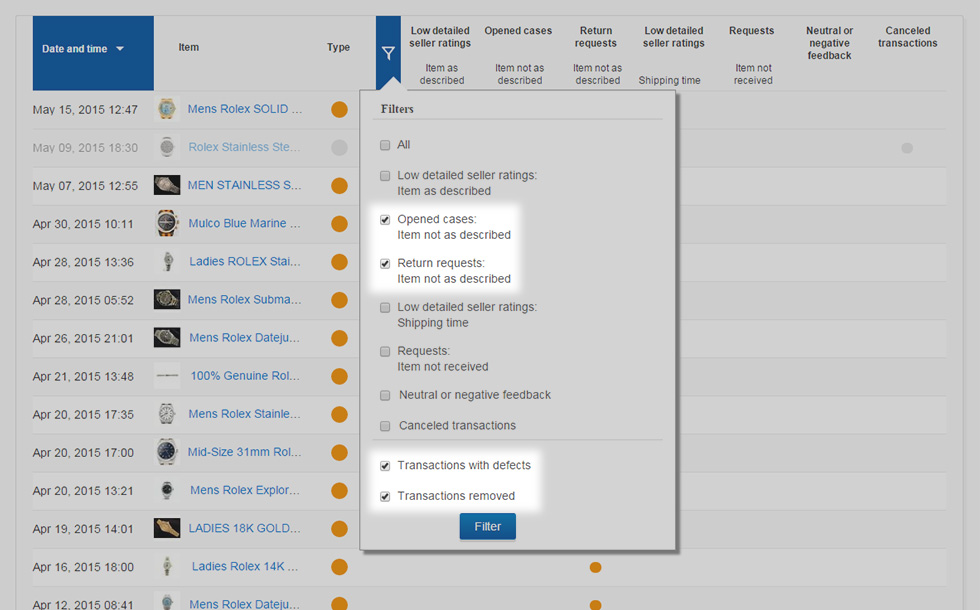 Sorting by defect type
Sorting by defect type makes it easy to focus on specific issues. For example, if you want to focus on not-as-described defects, just apply a filter to isolate those defects. You can see both opened and removed cases—or just one set, if you prefer.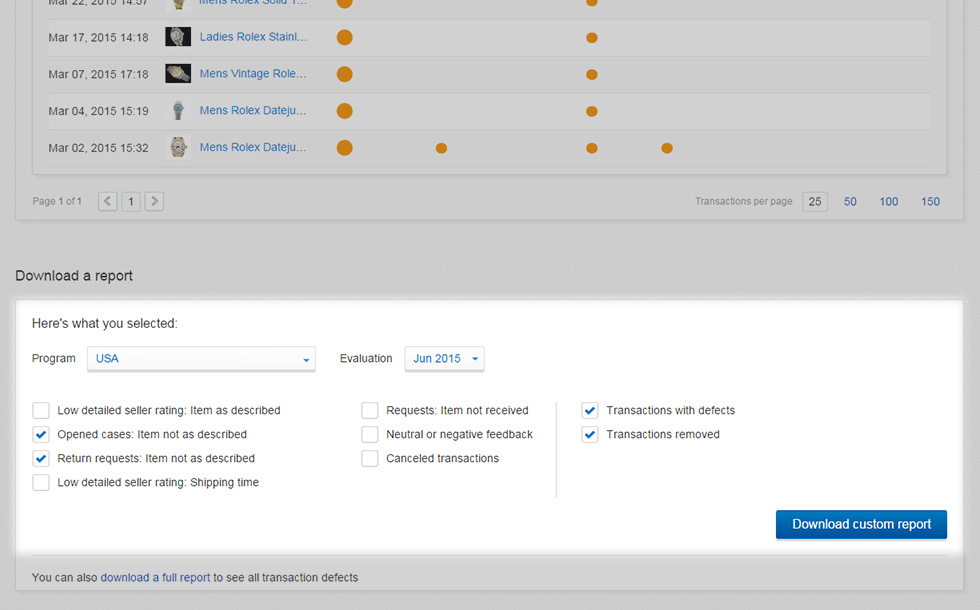 Create a custom report
When you've identified the information you want to keep, create a custom report to save the monthly data that's most important to you.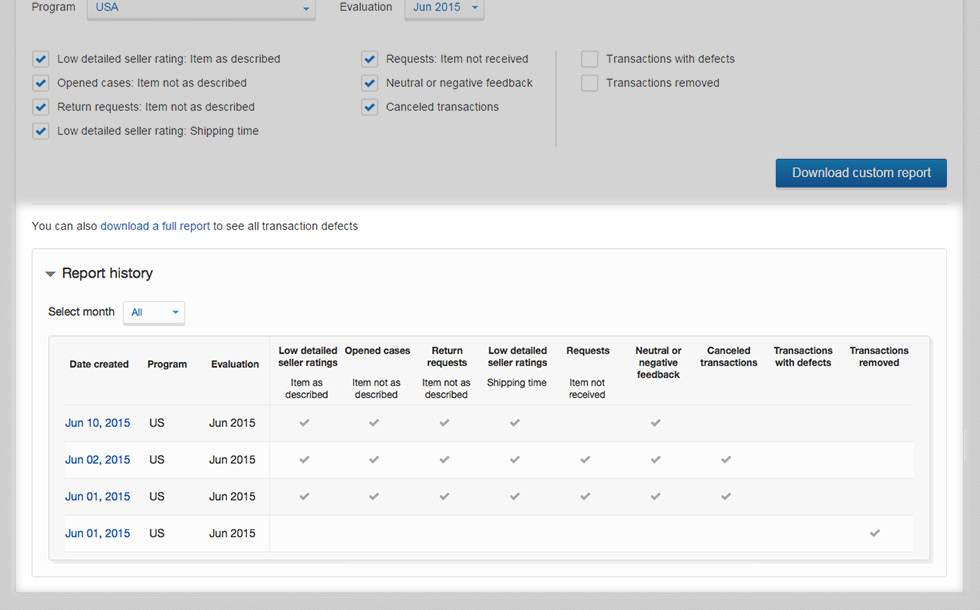 Downloading the full report
Click 'download a full report' to see all transaction defects. When you download a report, the report is saved in your report history, so you can refer back to it later. It is important to download and save your reports monthly, so that you'll always have a record of your last month's view.
Questions about the enhanced report?
Answers to your most pressing questions about your enhanced Transaction Defect Report
Why is my report changing?

eBay wants to give sellers the tools and resources needed to manage their businesses and be successful. The new updates to the Transaction Defect Report do just that—give you insights into the areas of your business that may need attention.

How will these changes affect me as a seller?

You'll be able to access more up-to-date information quicker, which will help you in managing your business. For example, you'll now be able to see defects that have been removed from your account, and that information will now be synced with your seller dashboard.

What kind of changes can I expect to see?

Look for a downloadable report that you can update monthly, plus the ability to filter your information (for example, by program, evaluation, and defect type). Daily updates will also give you access to the most current data available via your Seller Dashboard.
MAKE SURE TO DOWNLOAD YOUR REPORT EVERY MONTH
Getting there is simple: go to your Seller Dashboard and click 'percentage of transactions had defects (download a report)'. Access to your custom report is near the bottom of the page.
More about seller protection
Find out how you're protected.
Have a question about how to deal with feedback or a low DSR? See the FAQ for answers.
So you can focus on doing what matters most to your buyers.
How you can protect yourself
Do you want to?