Shipping options
There are lots of ways to ship an item. Which methods you use can have an impact on whether your item sells, how much it sells for, and how much you profit.
Start making money now
It's FREE* and easy to list
Three shipping options
When you list an item, you can offer buyers one of three possible shipping options: free shipping, flat fee shipping, and calculated cost shipping. Remember that your rank in search results is determined by adding your item's price and its shipping cost.
Free shipping: Offering free shipping is a great way to attract more buyers and get a higher placement in search results.
Flat fee shipping: If you choose flat fee shipping, it's a good idea to research average shipping costs for similar items or use the Shipping Calculator to determine a fair rate. If you're listing internationally, you can enter a separate flat fee for destinations outside the Canada.
Calculated cost shipping: By choosing calculated shipping, the Canada Post shipping costs are automatically calculated for your buyers. Costs are calculated based on the size and weight of the packaged item, as well as both your location and the buyer's location.
Delivery times
As a seller, it's important to give buyers a good idea of when to expect their items. Estimated delivery time is based on your handling time, the selected shipping service, and when you receive cleared payment. Get your items packed and shipped fast, and ship as soon as payments clear, and you'll maintain great feedback.
Combined shipping
When shopping, buyers are often looking for good value. This goes for shipping as well as the cost of the actual item. Offer combined shipping for multiple items to save buyers money and make them more likely to purchase multiple items. It's an easy way for you to increase sales without any additional work.
Specify where you ship
Most Canadian sellers ship to at least Canada and the US. If you choose to expand your reach to buyers outside of those areas, make sure you research global shipping costs and offer rates that are both reasonable and cover associated costs. Shipping internationally will increase your number of potential buyers.
Carrier options
When it comes to shipping your item, eBay provides three carrier options: Canada Post, FedEx, and United Parcel Service (UPS). You can easily offer any of these three carriers as options when creating an eBay item listing, you can even print prepaid shipping labels using PayPal Labels when it's time to ship those items you sell.
Get exclusive discounts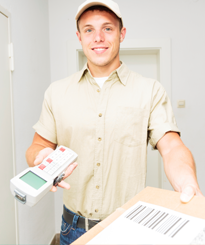 Save on shipping with eBay's preferred partners.
Ship for free when you want to attract buyers.

Offer flat fee shipping if you're selling domestically.

Offer calculated shipping for items that you offer to international buyers.

Extra shipping tips and resources
Read answers to frequently asked questions about PayPal labels.
Get special eBay discounts from Canada Post and FedEx.
Boost your sales and ratings, and lower your costs.
From your PayPal account you can pay for discounted postage, print shipping labels, and upload tracking to eBay automatically.
Boost your shipping DSRs and lower your shipping costs with these best practices.
Connect with other eBay sellers.
Estimate shipping costs with ease.
*Optional feature fees and final value fees apply. Excludes some listing styles and categories. See details.