Maintain great seller ratings
Seller ratings are important to eBay success. Buyers want to purchase items from reliable sellers. Learn how to communicate effectively and increase your sales.
Start making money now
It's FREE* and easy to list
Great Customer Communication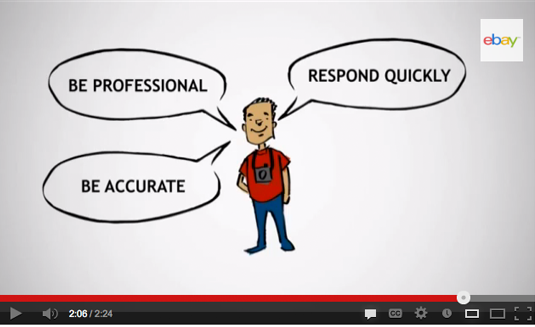 Understanding feedback
For each transaction, buyers and sellers can rate each other by leaving feedback. Feedback ensures that buyers and sellers are doing business fairly. Buyers can leave a positive, negative, or neutral rating, plus a short comment. Sellers can leave a positive rating, or not, and a short comment. Sellers get +1 point for each positive rating, no points for each neutral rating, and -1 point for each negative rating.
Making your buyers happy will get you positive comments, which helps you build a network of repeat buyers and a reputation that will build trust in potential customers in the future.
Detailed seller ratings
In addition to leaving positive, neutral, or negative feedback for a transaction, buyers can rate specific aspects of the transaction with detailed seller ratings (DSRs). Sellers receive detailed seller ratings in these four areas:
Accurate description of item
Communication
Shipping time
Shipping and handling charges
To keep your detailed seller ratings high, make sure you communicate with your buyers, describe your item accurately, keep your shipping charges low, and ship on time. Buyers rate sellers in each of these areas on a scale from 1 to 5. Buyers will consider your DSR before making a purchase, so keep yours up.
Become a Better Seller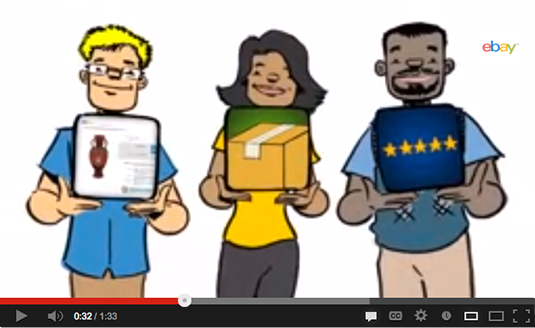 Get automatic 5-star ratings
eBay automatically gives sellers 5-star detailed seller ratings when they meet certain criteria in each area they are rated in.
Offer great customer service and get automatic 5-star detailed seller ratings, as follows:
5 stars for shipping and handling charges if:
You offer free shipping and we know the buyer chose that option
5 stars for shipping and handling time if:
You specify handling time of 1 business day, upload tracking information within 1 business day of receiving cleared payment, and your item is delivered within 4 days of receiving payment.
You offer Fast 'N Free shipping, upload tracking, and the item is delivered within the stated handling time plus the estimated delivery time.
5 stars for communication if:
You specify handling time of 1 business day and upload tracking information within 1 business day.
There are no buyer- or seller-initiated communications in eBay Messages, and there are no pending eBay Money Back Guarantee or PayPal Buyer Protection cases.
There are no requests for contact information between you and the buyer.
Manage your sales with My eBay
Just as My eBay is the hub for shopping as a buyer, it's your hub for doing business as a seller. My eBay is also where you will communicate with your buyers.
Communicate with your buyers
Buyers and potential buyers often have questions. Good communication is key to keeping your feedback high and turning potential customers into buyers who shop your listings. Respond to questions within 24 hours, and always communicate through My eBay.
Customer service best practices
Specify 1-day handling, free shipping, and offer a generous return policy.

Ship within 1 business day of when your buyer pays.

Upload tracking to eBay on all of your packages.

Use signature confirmation for items valued at $750 or more.

Respond promptly to buyer questions.

Respond immediately if you have an eBay Money Back Guarantee case.
Helpful selling resources
There are a few simple things you can do to get paid even more quickly.
Learn how fast and fair handling of disputes provides protection for both buyers and sellers.
Learn how the eBay Seller Protection team works to help keep you protected so you can focus on selling.
See what unused items you could sell from your home.
How you price your item affects search visibility and how many items will sell. Consider your approach to maximize your success.
Understand the difference between auction-style and fixed price, and fine-tune your listings to get the best results.
*Optional feature fees and final value fees apply. Excludes some listing styles and categories. See details.