How do I sort my results?
When you search on eBay, we automatically sort your results to show listings that best match what you're looking for first.
You can use the Sort by drop-down menu at the top of your search results to sort in other ways. The number of results is the same, but you control the order in which they're shown.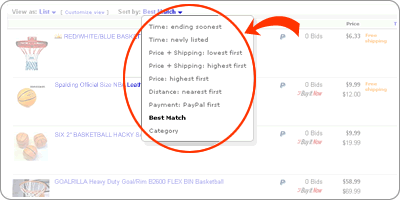 Tip: To save your preferred sort order, click the "Customize view" link at the top of your search results. Click the "Advanced Options" link on the right side of the dialog box and then choose the sort order.
What does "Best Match" mean?
When we sort search results by Best Match, we evaluate listings and sellers to display the most relevant items from our best sellers first.
We focus on many of the factors that are most important to you as a buyer, which may include:
Relevance to the words you entered in the search box

Seller track record, including those rated highly by other buyers

Popularity of an item, including recent sales history (for fixed price items)

End time (for auction-style listings)
How can I sort by other criteria?
Depending on what you're looking for, you might want to sort your search results differently.
| | |
| --- | --- |
| Listings ending soonest | Time: ending soonest |
| Lowest total price, including shipping costs | Price + shipping: lowest first |
| Items located closest to your postal address | Distance: nearest first |
| Items grouped by the category in which the sellers listed them | Category |