Increase Your Sales
There's always room to differentiate yourself. Turn these insights into action and connect with more potential buyers than ever.
Increase your sales
Seller programs
Sellers on eBay who create consistently positive experiences for their customers and reach certain benchmarks may qualify for one of our seller programs. Each program has a different set of qualifications, and offers different benefits. Sellers who are a part of one or all of these programs receive a seal on their listings, and when buyers see these seals, they know they are buying from an experienced seller with a high quality of service.
Becoming a PowerSeller
PowerSellers are sellers who consistently sell a high volume of items and provide a high level of service to their buyers. Membership in the PowerSeller program is free and automatically applied to those who qualify. Membership offers the benefit of a seal on your listings that lets buyers know that you provide consistently good service. Being a PowerSeller is a prerequisite for the Top-Rated seller program.
You can learn more about the PowerSeller program and its performance requirements on our help page.
Becoming Top Rated
Top-Rated sellers are sellers who consistently provide the best buying experiences to their customers. Canadian sellers can be Top-Rated in both the global and US programs, depending on where they sell. It's free to be a part of the Top-Rated seller program, and offers significant benefits such as discounts on final value fees and priority customer support.
Canadian sellers can participate in and benefit from both the US and Global Top-Rated programs. You can learn more about the Top-Rated programs and their performance requirements on our help page.
Social selling
There are many ways outside of eBay to promote your business and attract new buyers. By encouraging other users to follow you both on and off eBay, you'll build an audience of potential buyers that you can engage with, establishing a positive reputation in the community and earning more sales.
Many sellers find it beneficial to establish a social media presence for their business outside of eBay. A social media presence can help your business by enabling you to engage with current buyers, attract new ones, and raise awareness of promotions and special events.
The list of popular social media channels is always growing, so you'll have to do a little bit of research to decide which channels fit the needs of your business best. Typically, most businesses choose a combination of Facebook, Twitter, and Instagram, though you're certainly not limited to those options. Feel free to experiment to see which channel you and your customers seem the most comfortable with.
Here are some basic tips for those looking to establish a presence for their business on social media:
Create a separate account specifically for your business. Keep it professional, and don't use it to post personal updates.
Use keywords and hashtags to ensure that others who might be interested in the items you sell can find you.
Use only high-quality photos and videos that you own the copyright to. Choose photos that look professional, and are engaging and well-composed.
Respond promptly to customer comments or questions. Responding quickly and honestly to what your buyers have to say helps you to establish a positive online reputation.
Post frequently, but don't spam. You'll want to post regularly in order to keep your followers engaged, but don't post unless you have something of value to say.
Consider offering special promotions to your social media followers. For example, offer a 5% discount for those who share, retweet, or follow you.
Creating a robust profile
Your eBay profile is one of the first impressions you'll make on prospective buyers. It's a place where other members can learn about you, your interests, and the items you sell. You can customize your eBay profile to create a good impression with buyers. Below are some of the ways you can personalize your profile: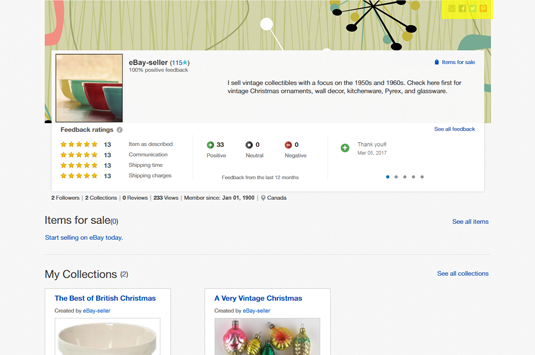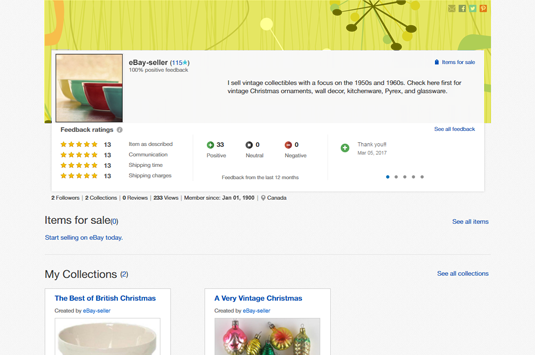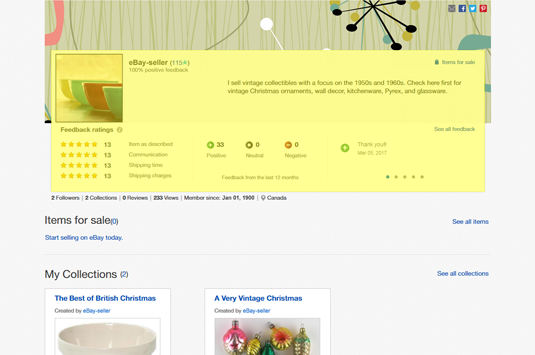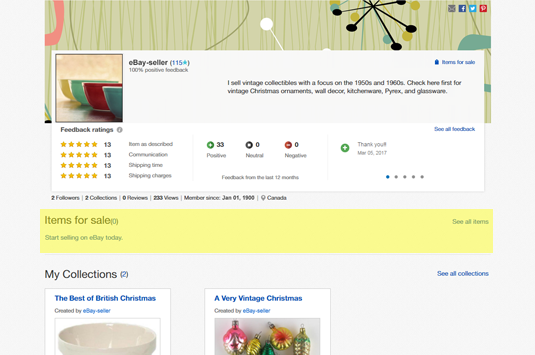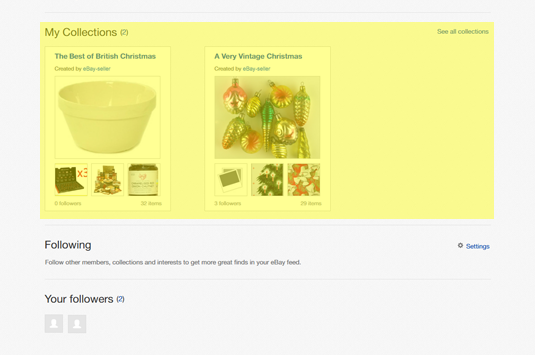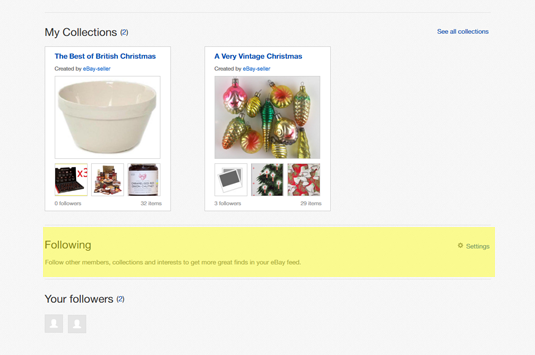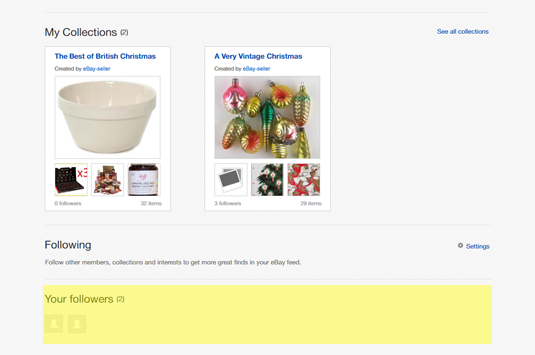 Social sharing widgets

These icons enable you and other users to share your profile on Facebook, Twitter, Pinterest, and by email with just a click.

Cover image

Upload a custom cover image that reflects your business, brand, inventory, or special offers.

Key information

This area showcases your profile image as well as a description of your business, in addition to your feedback and detailed seller ratings. It also allows other members to follow you, contact you, and get access to your eBay Store.

Items for sale

The items you currently have for sale are displayed in order of how recently they were listed.

Collections

Any collections you've created and made public are shared here.

Following

The collections, members, interests, or searches you're following appear here.

Followers

Users who are following your profile are listed here.
Saving sellers
Getting your items in front of potential customers has become more important than ever. Many of the purchases we make today happen because something inspired our interest in a product we might not otherwise have been aware of. Whether the source of inspiration came from seeing the item in a store or from a post on social media, the most successful sellers know that you can't always expect the buyers to come to you.
Saving sellers on eBay is a way for users to remember sellers they like and see their recently listed items in a feed on their homepage. Saving is a powerful tool to help you tap into buyers, promote your inventory, and expand your sales—turning browsers into fans, fans into buyers, and buyers into repeat customers.
All of the techniques you read about on this page are effective strategies for encouraging other eBay members to follow you. You can learn more about saving sellers on our help page.
Building collections
Collections are a way to gather and share items on eBay that you like, want, or recommend. Collections can show buyers what you have for sale in a way that's inspiring and aspirational. Explore trending collections for ideas, and think about ways that you can incorporate your items in a similar way. Once you're ready to get started, here's some tips for creating effective collections:
Aim to create collections that inspire discovery. Include a rich variety of items, and let other members see the passion and knowledge behind the products you add.


Create a number of collections. We recommend creating 5-10 collections, with around 15 items per collection. Create themed collections for seasonal events, such as holidays, when appropriate.


Use or seek out inspiring, high-quality images. Buyers are most attracted to interesting, engaging, and clear imagery. The more attractive and interesting your collections, the more likely they are to gain a following.


Choose a concise and descriptive title that explains what's in the collection. For example, "Camera gear for outdoor sports" is better than "John's stuff".


Add items that make sense together. The theme of each collection should be obvious to the viewer—for example, if you have a collection that features automobile accessories, it'll look a little odd if you add gardening tools to the mix.
Add complementary items offered by other sellers. Buyers prefer to shop from collections that feature a rich assortment of related and complementary items. Include items that best illustrate the collection's theme, regardless of who is selling it.


Add comments about the items you've picked for your collections. This is a way to give your collection extra personality, and explain to other members what makes each item special.


Respond to comments that other users post on your collections. It's a great way to connect with other members and show off your expertise and ideas. It helps keep interested shoppers engaged with your collections.


Update often by adding new items to your collection. Collections that are frequently updated show up more often in your followers' feeds, and are more likely to be featured on other eBay pages.


Factor in social media. Consider how your collections will look if they are shared on social platforms like Pinterest, Twitter, Facebook, and blogs.
You can learn more about creating and managing collections on our help page.
Writing reviews
Writing product reviews is a good opportunity to display your knowledge of certain products, as well as to establish yourself as an expert in what you sell.
If you own and have experience with a particular item, you can write a review of that item by visiting a listing that features ratings and reviews for that item and selecting "Write a review". Remember, reviews are linked to the product itself and not the member selling it—so any listing that sells the same item will display the same reviews. Reviews you write will appear in your eBay profile.
Participating in the eBay Community
The eBay Canada Community is a robust network of buyers and sellers. The discussion boards are a popular place for eBay members to ask questions and chat about a variety of topics.
Sellers who are active in the community frequently share experiences and advice. Don't overlook participation in the community as a part of the eBay experience—while it's by no means required, there's a lot to be gained by sharing with other eBay sellers.
Selling best practices
Need a refresher—or a quick recap? Follow these top ten growth strategies to make sure you're making the most of your selling experience on eBay.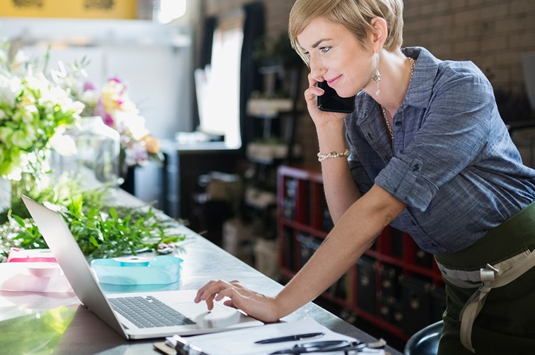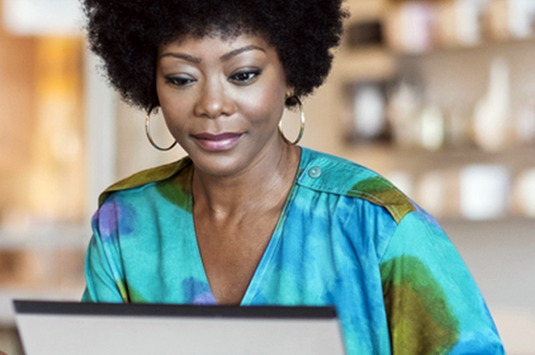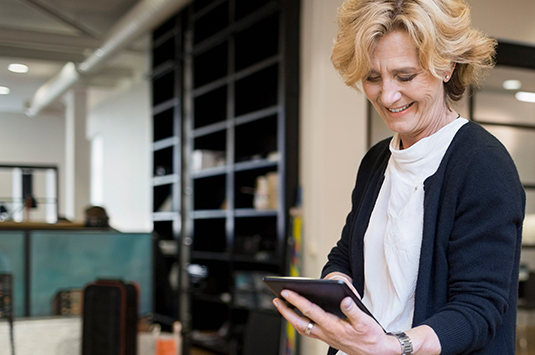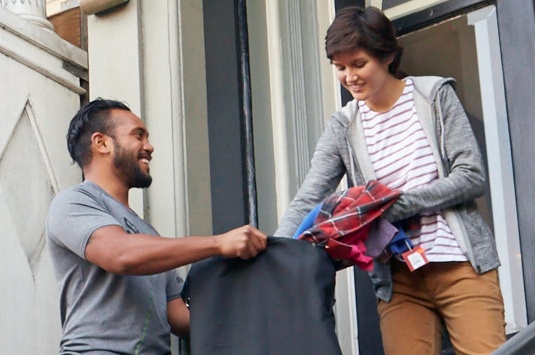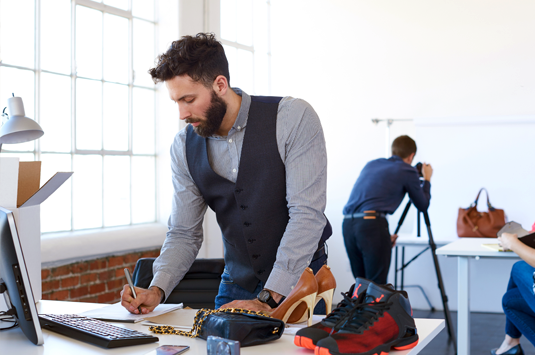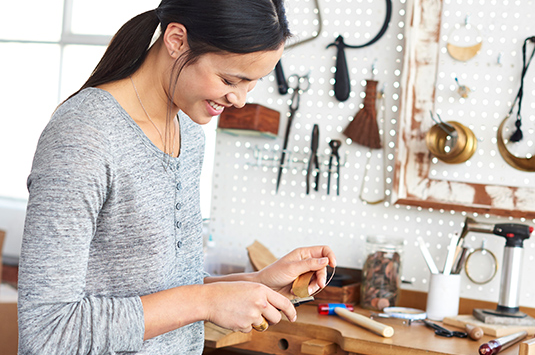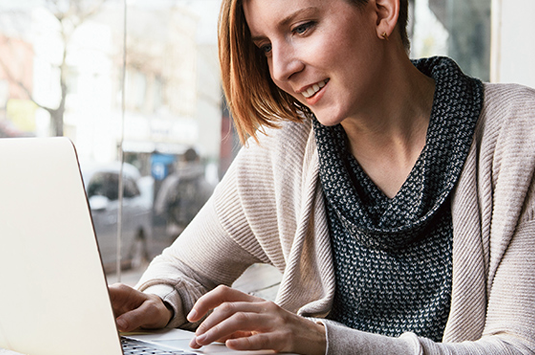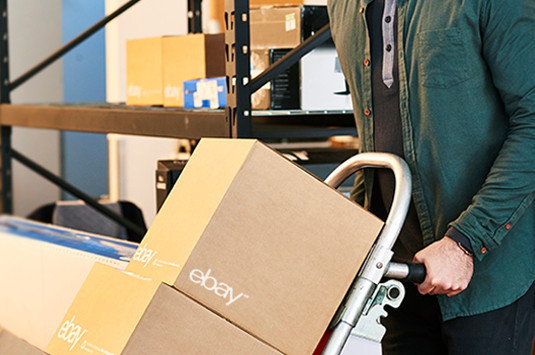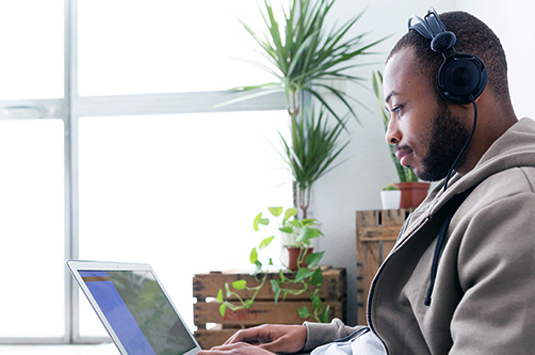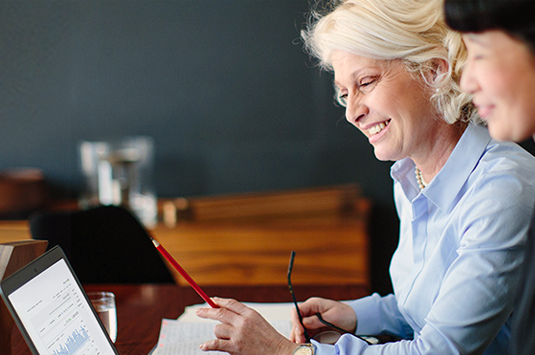 Get great feedback and DSRs

The key to getting positive feedback and ratings is excellent customer service. Always represent your item accurately and honestly. Make your terms of sale easy to find and understand, especially concerning payment terms, shipping, and returns. Respond to questions quickly, be patient and courteous—and be sure to leave positive feedback to encourage your buyers to do the same. Read more tips for maintaining stellar feedback and DSRs.

Do your research

Before listing, learn all about how eBay displays search results and find out if your item will do best in a fixed price or auction-style listing. Consider tracking trends using third-party tools, such as Market Research by Terapeak, and analyze your sales performance, understand key growth contributors, and identify opportunities and areas for improvement.

Use the seller dashboard to monitor your performance

You can access the seller dashboard through My eBay. Among other important information, you can view details about your PowerSeller or Top-Rated Seller status, policy compliance, and buyer satisfaction.

Encourage multiple purchases

Offer combined shipping discounts to drive additional sales. Encourage buyers to purchase multiple items by offering multiple items discounts. Or, use Markdown Manager for your eBay Store inventory or fixed price listings to create a limited-time sale or free shipping to create a sense of urgency. Use our multi-variation listing format to create one listing showing all the sizes and colours you have of a single item.

Open an eBay Store

eBay Store subscribers get a powerful suite of tools to help you build, manage, promote, and track your business on eBay. As a Store subscriber, you'll get up to 10,000 free* fixed price listings per month when you showcase your listings in a fully customizable eBay Store. You'll also get special access to advanced design, marketing, and reporting features.

Save time with seller tools

Whether you sell dozens, hundreds, or thousands of items, eBay seller tools can streamline your work from start to finish. List more items and automate your selling process to increase your efficiency, maximize sales, and boost profits.

Attract more shoppers to your listings

Increase your visibility among Internet shoppers to get more bids and boost your final selling prices. Optimize your listings for search engines by using keywords in your title and description. Share your expertise, enhance your reputation, and attract more visitors to your listings by writing reviews and guides about your top-selling products—it's easy, effective, and free.

Go global

Describe your item with global sizes, clearly specify shipping destinations and rates, and take extra care when communicating with international buyers. International trading is a great way to expand your market and your sales.

Source products to sell on eBay

Increase profits by purchasing bulk lots for resale right on eBay. Find great deals by searching for wholesale lots in most eBay categories.

Get tips and resources to build your business

Browse the Seller Centre for tips, best practices, and important solutions to help your business, or trade expertise with the eBay Canada Community.