My Messages Updates



Now manage customer and eBay email communications the easy way
in My Messages


New features in My Messages will help you sort, view, organize, and manage emails from eBay and your buyers and prospective buyers. With the introduction of an out-of-office reply, customized email signatures and message filtering, you can use My Messages as your primary inbox for managing buyer emails.

Highlights
Take Action
Frequently Asked Questions


HIGHLIGHTS

Let members know how to reach you when you're on the move
Set up automatic, out-of-office replies to let buyers know when you're unavailable and help set their expectations for getting a response. Use the new "out of office" message feature or a customized email signature to provide alternative contact information for urgent issues.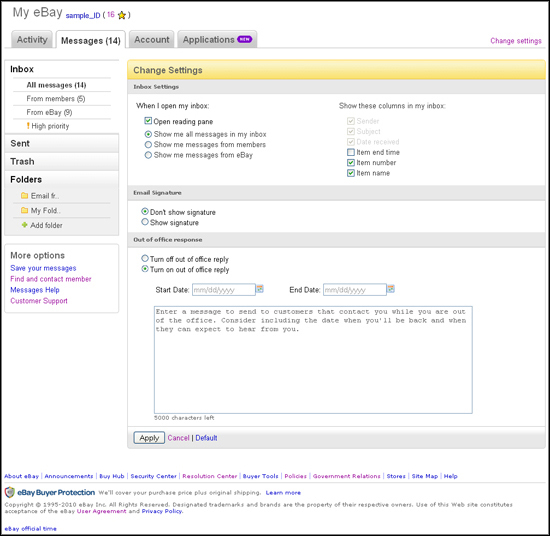 Get to higher-priority messages faster
Reading pane makes previewing emails easy and helps you go straight to the emails that matter most.
With one-click filtering, you can separate eBay alerts, emails from members (your buyers or prospective buyers), and emails from eBay.
Customize My Messages to display the information you need
Decide what you see first when you log into My Messages - member messages, eBay messages, alerts, or all of the above.
Add columns to sort emails based on listing attributes like item name, item number or end date.
Set up your My Messages default view to display the email information you need most


Customize your email signature


Set up out-of-office notifications to let buyers know when you're unavailable
FREQUENTLY ASKED QUESTIONS