PRODUCT
REVIEWS
Product reviews—a new eBay standard
Over the next few weeks, we will gradually introduce the new product reviews platform from eBay.com to buyers on eBay.ca. The eBay.ca product reviews platform will work seamlessly with eBay.com, and will include the latest features now being introduced on eBay.com to make it simpler to read and contribute reviews:
Expanded to include even more products
Cleaner design with easy to identify ratings
Simple follow-up emails to buyers requesting product reviews
Product reviews drive buyer trust and confidence by providing relevant information they need. Supplying this information at the point of purchase means shoppers are more likely to convert to buyers when viewing your item.
The new eBay product reviews on eBay.ca will include:
Item condition of the item reviewed
Item purchased on eBay
Sold by seller name when available and applicable
Reporting capability for inappropriate content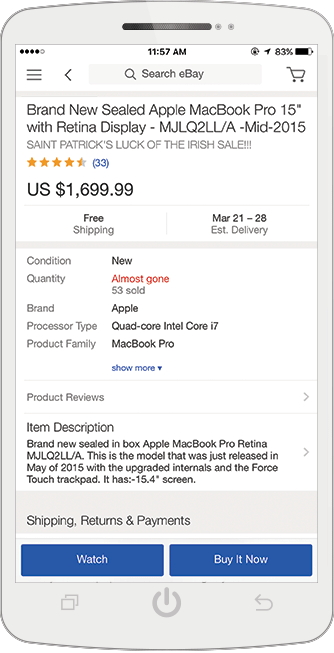 Reviews will be associated with a specific product, ensuring a reliable and consistent user experience for buyers on both eBay.ca and eBay.com. Reviews written by eBay buyers, have the added benefit of having the seller's username associated with the review.
Better information drives conversion
Product reviews are a retail standard that buyers rely on to get a complete picture when shopping for items.
They give buyers deeper insight by letting other buyers of the product do the talking
They clarify information about the product and reduce doubts or confusion
Product reviews are trusted by shoppers and promote engagement with eBay. Nearly 2 million product reviews have already been posted since the introduction of the updated Product Reviews feature late last summer on eBay.com.
Product reviews are coming soon
Over the next few weeks, we will gradually introduce product reviews to buyers on eBay.ca. Users' product reviews will be displayed on all eligible listings, including reviews left by buyers on either eBay.com or eBay.ca. A listing is reviewable if it is adopted to a product. Sellers are not required to take any action.
Frequently Asked Questions
If a review is inaccurate, includes spam content or promotional information, or violates the Community content policy, what can I do?

eBay will remove product reviews if they are inappropriate, inaccurate or misplaced/not related to products, including reviews of a seller in the product review. We are monitoring for violations and users may report violations of this policy by clicking the report link in the content in question and the review will be reviewed by eBay and a decision will be made.

What listings are eligible for reviews?

Listings associated with a product in the eBay product catalogue are eligible for product reviews. If no review has been written, a buyer will be given the opportunity to be the first to write a review and any buyers of reviewable items will receive an email encouraging them to write a review. All eligible products across all categories in general can be reviewed and show reviews.

Do product reviews created on eBay.com appear on eBay.ca?

Yes. Because North American buyers share very similar product catalogues, reviews created on either eBay.ca or eBay.com will be associated with the product on both eBay.ca and eBay.com.

Why are product reviews from another seller's item listing also showing up on my items View Item page?

Sellers that list the same product share the same reviews, providing a reliable and consistent user experience for buyers. Reviews are associated with products, not individual listings.

Why don't we have reviews for new items and reviews for used items?

Research shows that users like to read reviews about both new and used items. We require reviewers to indicate the condition of items they are reviewing to ensure that the most relevant information is provided to buyers. We will continue to evaluate how buyers use the information and will make adjustments when appropriate.

Is there any action I need to take?

No. Product reviews will automatically be included on all eligible items.

Can I opt-out of product reviews for my listings?

No. As the new product reviews experience is introduced to buyers on eBay.ca, product reviews will automatically appear on all eligible items.

Can I ask for a review to be removed from my listing?

Yes. Click on the report link in the review and choose the appropriate reason why you believe the review should be removed. eBay will review all requests and make a decision. A negative review, by itself, is not removable.

Who can leave reviews on my items?

All users (buyers and sellers) may write product reviews. Reviews are associated with products and not listings.

Why does eBay identify who wrote the review?

We identify the writer as either a verified purchaser or un-verified purchaser. This aligns with normal ecommerce practices to capture the username of the person who writes the review and provides for better authoring, and discourages bad behaviour.

Can I leave a review of my own product?

All users (buyers and sellers) may leave a review on any eligible products. However, only buyers who purchase the item on eBay will be identified as a verified purchaser.

Why doesn't my item show a review?

A review may not show on your item for one of two reasons. First, your item may not be eligible for review. Second, a review may not have been provided by a buyer. eBay prompts buyers to be the first to write products reviews.