Product-Based Shopping
Providing the right product information and getting your listings seen by more buyers.
Product-based shopping
What is product-based shopping?
Your success as a seller begins when your buyers choose to shop first on eBay. To meet the evolving expectations of buyers, eBay is transitioning to a product-based shopping experience, where are listings for the same product are grouped together.
Until now, search results on eBay have been overwhelming at times. Combing through dozens of similar listings within eBay's vast inventory has made the shopping experience time-consuming and frustrating—driving buyers away from your merchandise.
By transforming the shopping experience, listings will now be collapsed and grouped by product. This makes it easier for buyers to find the item that best meets their search criteria, and quickly decide which product they want to purchase.
What is the eBay catalogue?
The eBay catalogue is a database of items based on structured product data, designed to help you list your inventory.
By using structured data to associate your products with items in the eBay catalogue, you'll become part of the retail-standard experience that buyers expect. It will also ensure that your listings qualify for features such as product reviews, further highlighting the value of your product.
What am I required to list using the eBay catalogue?
The transition to a product-based shopping experience will happen in phases. During each phase, we'll introduce a set of product lines for which it's necessary that you associate with the eBay catalogue.
Phase 1
As of May 2018, you're required to associate your items with the eBay catalogue for the product lines listed below. If you create a listing for an item in one of these product lines and you do not associate it with a product in the eBay catalogue, you won't be able to complete the listing process, as the new shopping experience will only display listings within these product lines that are associated with a product in the eBay catalogue.
| | |
| --- | --- |
| Brand | Product line |
| Amazon | Echo, Fire Stick |
| Apple | iPad, iPhone, TV |
| Dyson | AM Cooling Fan, AM Fan Heater, AM Humidifier, Pure |
| Google | Chromecast, Home |
| Jawbone | Jambox |
| NEST | Thermostat |
| Roku | Premier / Express / 1 / 2 / 3 / 4 |
Phase 2
Starting in mid-September, 2018, we are expanding the product-based shopping experience to include the categories below. We'll also invite you to contribute your expertise by suggesting edits to the eBay catalogue, to help ensure that product information is accurate, complete, and up-to-date. You'll also have the opportunity to add new products if you have relevant inventory that is not represented.
We encourage you to start updating your listings to comply with these requirements now, so that there is no interruption to your eBay business when catalogue adoption goes into effect in September. Seller Hub and My eBay will flag your existing listings if they need to be updated to comply with the new requirement for these categories.
Category
Cardio Equipment
Cell Phones & Smartphones
Computers/Tablets, Networking Tablets & eBook Readers
Humidifiers
Major Appliances
Portable Fans
Programmable Thermostats
Small Kitchen Appliances
Space Heaters
TV, Video and Home Audio: Internet & Media Streamers
TVs
Voice-Enabled Smart Assistants
How buyers will see your products
Buyers shopping in the new product-based environment will find what they are looking for faster. That's because products that are most searched for will benefit from a collapsed search result. Since results will be organized by product, buyers will be able to make faster buying decisions.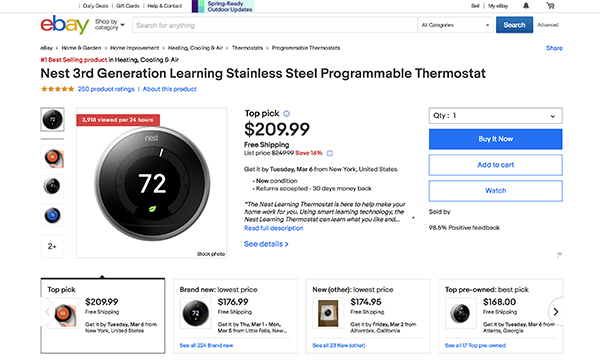 Over the next few years, we'll expand the eBay catalogue in phases to eventually cover all products. You'll still be able to add any items that are not represented in the catalogue—such as unique, handmade, or vintage items.
Associating your listings with the eBay catalogue
Associating your multiple variation listings with the eBay catalogue
Associating your bundles or lots with the eBay catalogue
Product-Based Shopping FAQ
Read frequently asked questions about the product-based shopping experience on eBay.
Learn More