eBay Stores
Discover how you can grow your business and save with an eBay Store subscription.
eBay Stores
Great value in every package
An eBay Store offers sellers greater savings, more flexibility, and better value. Compare the options to see which is the most cost-effective Store subscription for you. All eBay stores include the following cost-saving features:
Unlimited insertion fee credits for auction style listings that end in a sale
A quarterly voucher for up to C$210 in eBay-branded shipping supplies
Final value fees as low as 60% off non-eBay Store subscriber rates (varies by category)
For listings in the Collectibles and Fashion categories, 100 additional fee auction style listings per month*
Choose from three subscription packages with fixed price insertion fees as low as 5¢, free pictures, and features designed to boost your success through every stage of business growth.
Open an eBay Store in just 3 easy steps:
Recommendations
To help you choose a subscription, consider the volume of listings and sales you make each month, the price your items sell for, and the main categories you sell in. If you're not sure which Store subscription level might be best for your business, start with the recommendations below.
Basic

Premium

Anchor

Recommendations

List at least 350 items a month in either auction-style or fixed price formats; or, list high-value items to take advantage of lower final value fees

List at least 1,000 items a month in either auction-style or fixed price formats

List at least 10,000 items a month in either auction-style or fixed price formats

Want top savings and support for high-volume sales
Packages and pricing
For fees, please refer to the Help page.
Build your Store

Basic

Premium

Anchor

Store home page
A single, branded place on eBay where all your listings live.

Yes

Yes

Yes

Customized web address
Get your own URL (stores.ebay.ca/yourstorename) to drive buyers directly to your store.

Yes

Yes

Yes

Featured items
Promote 4 featured items on your Store homepage.

Yes

Yes

Yes

Store categories
Help buyers browse your Store with up to 300 custom categories.

Yes

Yes

Yes

Branding
Add a billboard, logo, and description to express your brand.

Yes

Yes

Yes

Subscriber discounts
Take advantage of partner discounts on select services.

Yes

Yes

Yes

Manage your sales

Basic

Premium

Anchor

Free sales management tools
Valuable free tools to help you save time, improve customer satisfaction, and scale your business.

Manage your promotions
Attract more buyers by offering discounted pricing on your items.

Yes

Yes

Yes

Vacation hold
Put your listings on hold while you're away.

Yes

Yes

Yes

Promote your sales

Basic

Premium

Anchor

On eBay
A link to your eBay Store will appear on all your listings.

Yes

Yes

Yes

Listing frame
Add your Store header, search box, and category navigation to all of your listings in your item description.

Yes

Yes

Yes

HTML builder
Easily create links to your Store from emails, other websites, and listings.

Yes

Yes

Yes

Off-eBay email marketing
Keep your customers coming back with customized e-newsletters and promotional emails.

5,000 emails per month

7,500 emails per month

10,000 emails per month

Promotional flyers
Create promotional flyers and include them with your shipments to drive repeat business.

Yes

Yes

Yes

Business collateral templates
Boost your brand and establish a professional image with these downloadable templates.

Yes

Yes

Yes

Search engine keyword management
Optimize your Store for search engines and increase your exposure on the web.

Yes

Yes

Yes

Track your success

Basic

Premium

Anchor

Review and analyze your Store traffic to improve your merchandising and listing strategy

Yes

Yes; with advanced reporting

Yes; with advanced reporting

Number of daily pageviews and unique visitors to your Store

Yes

Yes

Yes

Number of pageviews and visitors for each page in your Store, including all of your listings

Yes

Yes

Yes

Data on how visitors arrive at your Store (e.g. search engines, keywords)

Yes

Yes

Yes

Search terms visitors use within your Store

No

Yes

Yes

Path analysis

No

Yes

Yes

Bid and Buy It Now tracking

No

Yes

Yes

How often visitors return to your Store

No

Yes

Yes

How visitors see your pages (e.g. browser type, resolution, language)

No

Yes

Yes
Customizing your Store
Building a brand helps make your Store stand out in the crowd, giving it a professional and recognizable look, while ensuring that your customers remember their shopping experience with you.
The key to creating and maintaining a memorable Store brand is to capture what makes your business unique and have a clear understanding of the customers you want to attract. Some other things to keep in mind:
Be consistent with your use of imagery, colour, and tone of voice
Keep your messaging positive and professional
Avoid bad grammar, and always use spellcheck
Keep text to a minimum
Use the same branding across eBay, social media channels, and all other communications
eBay lets you brand your Store in many ways, such as adding a listing frame to your listings, adding a logo to your invoices, or featuring your social media channels for easy sharing. Here are some of the ways you can make your Store truly yours: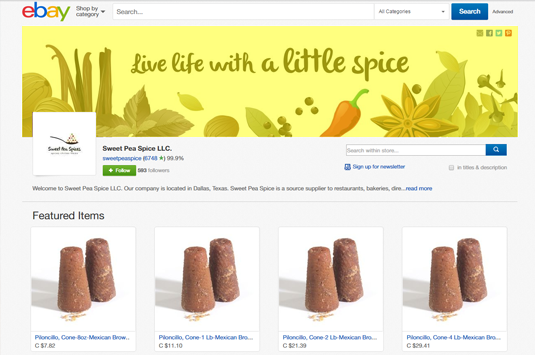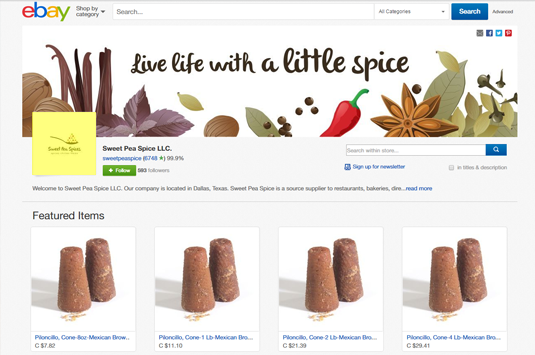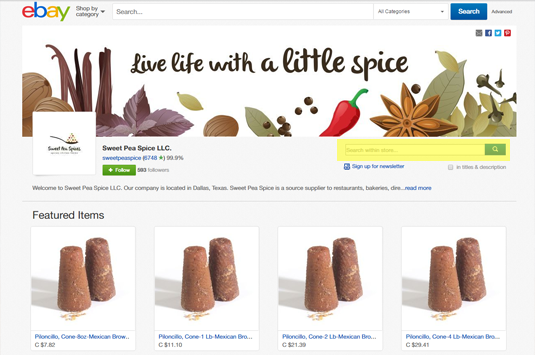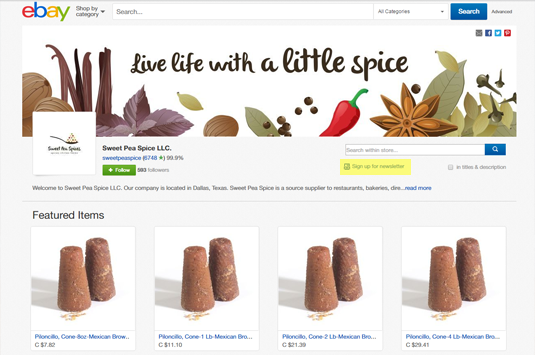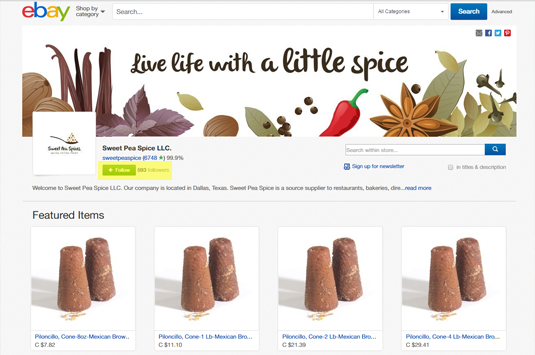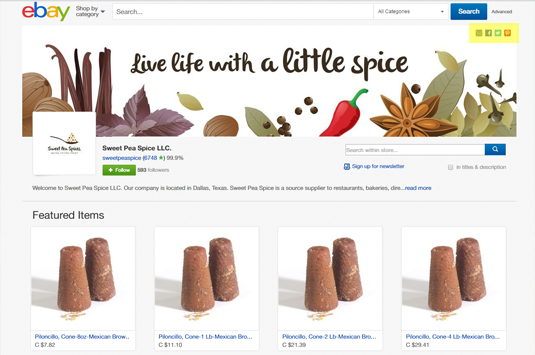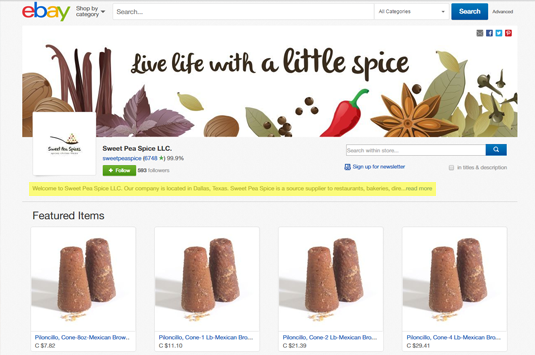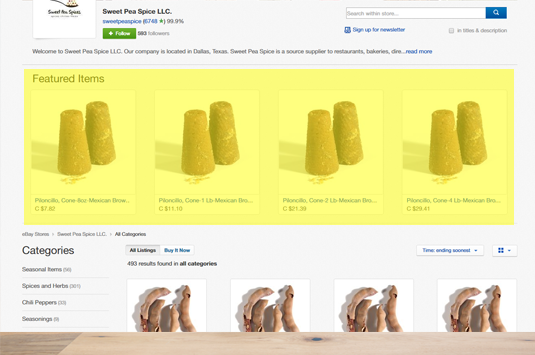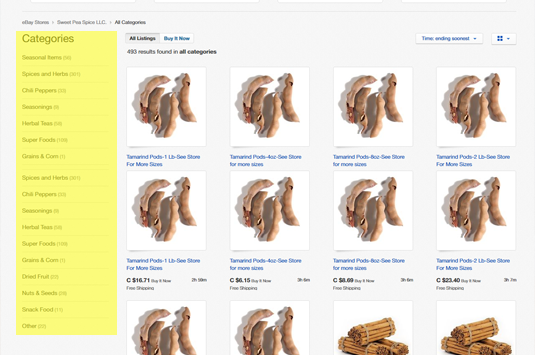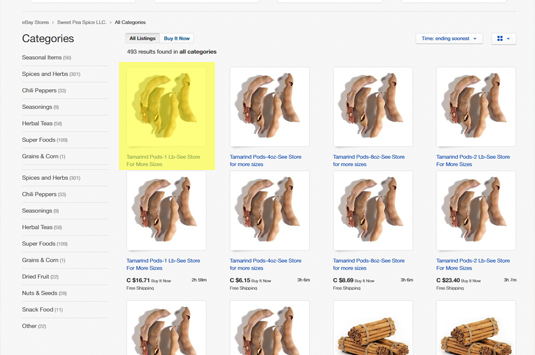 Billboard image

Add a photo that promotes your brand, products, or a limited-time promotion.

Store logo

A graphic symbol that embodies your brand and can be easily recognized by your customers.

Store search box

Allows buyers to search for items within your Store.

Newsletter signup

Interested buyers can get the latest updates when they subscribe to your email newsletters.

Follow button

Keep customers coming back. When members follow you, your items appear in their home page feed.

Social sharing buttons

Easily promote your Store on Facebook, YouTube, Pinterest, Twitter, and email.

Store description

Tell buyers about your store using keywords that clearly describe your Store and items.

Featured items

Showcase select inventory from listings ending soonest, newly listed, or hand-picked by you.

Categories

Use up to 300 custom categories to organize and display your items.

Larger photos

Show off items you want to feature.
You can learn more about customizing your Store on our help page.
Optimizing your Store
With a few easy steps, you can make sure your Store is set up in a way that optimizes it for search engines, both on and off eBay. While the basic principles of optimizing your listings still apply, eBay Store subscribers benefit from additional features and opportunities to optimize their Stores. Read about some of them below:
Store name and URL
The Store name you choose determines your Store's web address, so be sure to choose a descriptive Store name that tells buyers about your company or what you sell. This helps search engines, both on and off eBay, find your Store when buyers are looking for the products you offer.
Optimized Store name: Ben's Computers
Non-optimized Store name: Zebra Park
If you've already chosen a Store name, you can update it to better reflect what you sell.
Store description
Your Store's description will be read by search engines, so a well-crafted description can help increase the likelihood that your Store will be included in search results. In your description, make sure to:
Include keywords that people might enter when searching for products like the ones you sell
Ensure your description accurately represents the products in your Store
If you use a custom Store theme, choose a theme or design template that includes your description in the header
You can update your Store's description at any time by going to My eBay > Manage My Store > Display Settings.
Custom pages and categories
Custom pages are a set of unique pages you can create for your Store to help showcase items, feature promotions, or host background information for your business. Using custom pages can help increase your standing in search engine rankings, as they offer more opportunities to use valuable keywords.
You can manage your custom pages from My eBay > Manage My Store > Custom Pages.
Custom categories can help boost your rankings if you include relevant keywords in your custom category names. For example, if you offer laptops, desktops, and printers in your Store, clearly specify what you sell with custom categories. Search engines won't recognize generic terms:
Optimized category names: Laptops, Desktops, Printers
Non-optimized category names: Category 1, Category 2, Other
You can manage your custom categories from My eBay > Manage My Store > Store Categories, or learn more about managing Store categories on our help page.
Listing headers
Store owners can link up to five Store categories in their listing header. Make sure you use a listing frame that shows listing headers on your listings, and use it to link to your most important Store pages.
You can manage your listing header from My eBay > Manage My Store > Listing Template.
Search engine keywords
Perhaps the most straightforward way to increase the chances of buyers finding your Store in search results is to customize the keywords associated with your Store. Add primary and secondary keywords—eBay will use these keywords to automatically create page titles and meta tags for your Store.
You can add or edit the search engine keywords for your Store from My eBay > Manage My Store > Search Engine Keywords.
Managing your Store
Once you've subscribed, your active listings will automatically appear in your Store—but it's up to you how they are organized. Think of your eBay Store as a physical store: the more attractive the presentation of your items, the more likely it is that buyers will visit and make a purchase.
You can organize your items within custom Store categories, select items to feature, put items on sale, and set your Store to holiday mode. Simply go to Manage My Store in My eBay to start managing your Store.
Get organized with custom categories
Make it easier for customers to navigate your Store and find items be using your own category structure. You can create up to 300 categories with up to 3 levels—e.g. Sporting Goods > Golf > Balls. Your categories can be unique—they don't have to match eBay's category structure.
Here are some tips to get you started with category organization:
Organize your listings according to brand, type, or price.
Create special categories to attract attention, such as "New arrivals" or "Clearance".
List items in two Store categories at once, at no extra charge.
Add, edit, move, and rename Store categories at any time.
Showcase items using featured listings
Showcase products in your Store by using featured listings. These items are displayed with bigger photos, giving them prominence on the page. You can also set your Store to automatically feature items that are ending soon, or set to feature your newest listings.
Simply select Edit Store, and then Featured Listings in Manage My Store.
Create sale items
Having a sale is a great way to move inventory. Hold a seasonal sale, a category-specific sale, or a clearance sale. You can create different types of discounts through Markdown Manager.
You'll find all the tools you need to manage Store promotions in the Marketing Tools section of Manage My Store.
Put your Store on holiday
If you're going to be away, there's no need to end your listings. Let potential customers continue to browse and buy items while letting them know when you'll be back by turning on your Store's holiday settings. Holiday settings turn on these automated features:
Your listings will include a message to let buyers know you're on holiday.
Your fixed price listings can be hidden while you're away.
A default or custom message will be displayed on your Store's homepage.
To turn on your Store's holiday settings, go to your Messages and select Change Settings on the top right side of the page. You can also turn on an out-of-office response to let people who contact you know that you're away. Holiday settings remain on until you turn them off, so be sure to update your settings when you return.
Important: You'll continue to be charged regular fees, such as your Store subscription fee and any listing-related fees, while on holiday.
Learn more about managing your Store categories, or start managing them now.
Integrating your website
If you're already selling on your own website, integrating it with eBay allows you to sync inventory from your existing website directly or by using a CSV file or spreadsheet directly into your eBay Store. eBay has partnered with a number of tools and plugins that make importing your inventory seamless, so that you can take advantage of the benefits:
The ability to list in bulk and manage inventory across multiple channels
Easier payment and order processing
Greater cost-effectiveness
Less impact from eBay system changes
Learn more about the tools and plugins you can use to connect your website with your eBay Store.
Promoting your Store
When you subscribe to an eBay Store, you gain access to exclusive tools to help promote your products both on and off eBay.
In addition to personalizing your Store and promoting it on social media , you can also create email marketing campaigns to target customers and drive traffic to your store. You can also help improve your Store's search engine ranking by customizing search engine keywords in Manage My Store.
Quick-start Stores checklist
Ready to get your Store up and running? Follow these steps to complete the tasks necessary to get your products online and in front of potential buyers today.
Choose a subscription level. Use our fee illustrator to help decide which subscription is right for you.
Create a Store name and update your username. Consider changing your username to match your Store name to make it more memorable. Learn how.
Build your Store categories. Create custom categories that will appeal to your buyers and make it easier for them to browse your merchandise. Learn how.
Create your Store logo. If you already have a company logo, create a 150 x 150 pixel image to upload to your Store. If you don't have a logo, consider having one designed to give a professional look to all of your channels.
Create your Store billboard. Adding a billboard image is an optional but great way to promote your brand, products, and Store events.
Select four featured items. Featured items appear near the top of your Stores page and are a great way to highlight inventory. Select four items to feature when you open your Store—consider running a "grand opening" sale to kick things off.
Promote your Store. Set up sales-boosting offers using Markdown Manager and create a marketing newsletter for customers to subscribe to.
Track and analyze your Store sales and traffic. With Sales Report Plus, a free reporting add-on for eBay Store Subscribers, you can review your sales over time and by category and format, as well as page views and traffic history. Learn how to subscribe.
The new eBay Stores experience
What's changing
As announced in the 2018 Spring Seller Update, in May 2018, we began to update some eBay Stores to provide a new look that's more secure and more consistent with the look and feel of the rest of the eBay site.
The newly-designed experience is free of active content, and complies with the highest browser security standard. It also improves search engine optimization (SEO), enhances the mobile web experience, and provides new merchandising opportunities for eBay Store subscribers.
If your Store does not have custom pages or a fully custom storefront, you do not need to take any action. If you have custom pages or a fully custom storefront, for the time being, there will be no change to your Store experience.
Frequently asked questions
Visit the eBay Stores FAQ page for frequently asked questions about the new eBay Stores shopping experience.
* Exclusions: Pay no Insertion Fees for allotted free listings per calendar month. Optional fees, including advanced listing upgrades and supplemental service fees, and final value fees may still apply. Motor Vehicles, Real Estate, Heavy Equipment, Concession Trailers & Carts, Imaging & Aesthetics Equipment, and Commercial Printing Presses are excluded. Terms are subject to change. Learn more. Up to 12 pictures per listing are free.
** Motor Vehicles, Real Estate, Heavy Equipment, Concession Trailers & Carts, Imaging & Aesthetics Equipment and Commercial Printing Presses are excluded. Terms are subject to change. Learn more.
† Pay no insertion fees for allotted free listings per calendar month. Optional fees, including advanced listing upgrades and supplemental service fees, and final value fees still apply.
†† The selling price is the final sale price of the item, not including shipping, handling, taxes, or fees.