How to Size Rings


Know what size ring you need before you shop so you can buy perfectly-fitting jewellery every time. To determine ring size, you can place a ring that fits you on a professional ring sizer mandrel, use a professional ring sizer, or find an approximate fit with a ring size chart or finger size strip. Make sure to measure your finger at room temperature. Heat and cold can cause your fingers to swell or constrict.

Determine Ring Size With a Ring Size Chart


Determine Ring Size With a Ring Size Chart
Use a ring that fits you to determine your ring size. Place your ring over the nearest size circle. The inner edge of the ring should align with the outer edge of the circle. If your ring appears to fit between two sizes, buy the larger size.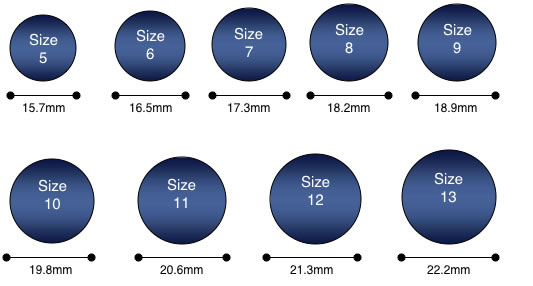 Back to top

Measure Ring Size With a Finger Size Strip


Measure Ring Size With a Finger Size Strip
To create your own ring sizer, print and cut the strip below. Insert the narrow end of the sizer through the "cut here" slot. With numbers on the outside, place the loop around your finger, and pull until the fit is snug but comfortable.


Back to top

Know When You Can Resize Rings


Know When You Can Resize Rings
Most jewellers will happily adjust a ring two sizes in either direction. More extreme adjustments can noticeably impact the look and structure of your jewellery.
Increasing the size of a gold or silver ring typically requires gently hammering the ring around a sizing shaft. This will cause the shank of the ring to thin slightly. In some rings the end result will not be perfectly round. Some jewellers will not resize platinum because of its density and strength.
To increase a ring more than one full size or to adjust a ring with stones, your jeweller may prefer to make an incision in the ring to remove or insert extra metal. This adjustment may leave a visible seam or an invisible weak point, but a professional jeweller can position flaws out of sight.

Back to top

Find Rings on eBay


Find Rings on eBay
Once you know what size ring you need, go to the Jewellery & Watches portal, click Rings, and start searching for items on eBay.
Product Finder: Certain ring categories have a related Product Finder that allows you to use drop-down menus to quickly narrow down item listings. For example, the Gemstone Rings Finder allows you to search by gemstone, metal, and size.

Keyword search: Search eBay listing titles for specific words. For example, if you want to find a size 7 diamond ring, type "diamond size 7" (without quotation marks) into the Search box. Click "Search title and description" to expand your results. Visit eBay's Search Tips page for more tips on searching with keywords.
If you can't find exactly what you want, try shopping eBay Stores, tell the eBay Community what you want by creating a post on Want It Now, or save a search on My eBay and eBay will email you when a match becomes available.

Back to top

Buy Rings With Confidence


Buy Rings With Confidence
Before making your purchase, make sure you know exactly what you're buying, research your seller, and understand how eBay and PayPal protect you.
Carefully read the details in item listings.
Figure delivery costs into your final price. If you spend a lot of money, make sure the seller will insure the item when it ships.

If you want more information, ask by clicking the "Ask seller a question" link under the seller's profile.

Always make sure to complete your transaction on eBay (with a bid, Buy It Now, or Best Offer). Transactions conducted outside of eBay are not covered by eBay protection programs.

Never pay for your eBay item using instant cash wire transfer services through Western Union or MoneyGram. These payment methods are unsafe when paying someone you do not know.
Research your seller so you feel positive and secure about every transaction.
What is the seller's Feedback rating? How many transactions have they completed? What percentage of positive responses do they have?

What do buyers say in their Feedback? Did the seller receive praise?

Most top eBay sellers operate like retail stores and have return policies. Do they offer a money-back guarantee? What are the terms and conditions?
In the unlikely event that a problem arises during your transaction, eBay and PayPal are there for you.
Pay safely with PayPal: PayPal enables you to pay without the seller ever seeing your bank account or credit card numbers. In fact, PayPal protects buyers 100% against unauthorized payments from their accounts. Plus, with PayPal Buyer Protection, your purchase can be covered up to C$1,250.

eBay Security & Resolution Centre: Visit the Security & Resolution Centre to learn how to protect your account and use eBay's quick and efficient resolution tools.

Back to top

---